RLG Writing Services
Proofreading, Copywriting, Web Site Text & More
Whether you need proofreading, copywriting or Web site text, I can offer you services in any or all of these areas at very reasonable rates.
Browse my site or contact me by phone (323) 481-9317 or e-mail me at rlgwritingservices@yahoo.com. I look forward to helping you with your everyday writing needs!
Make sure your copy is ready for publication. Have it proofread. Spell checkers just don't catch many common mistakes. Simple words like "to" and "too" often wind up in text unknown to the writer and then in print. Don't let small mistakes like these cause you regret and rejection. Get your copy proofread today.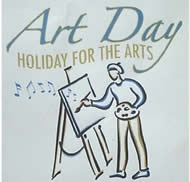 Proud Supporter
For more information about Art Day please click here
Current Member